In these blog income reports I share how I make money blogging and include tips on how to improve your blogging skills.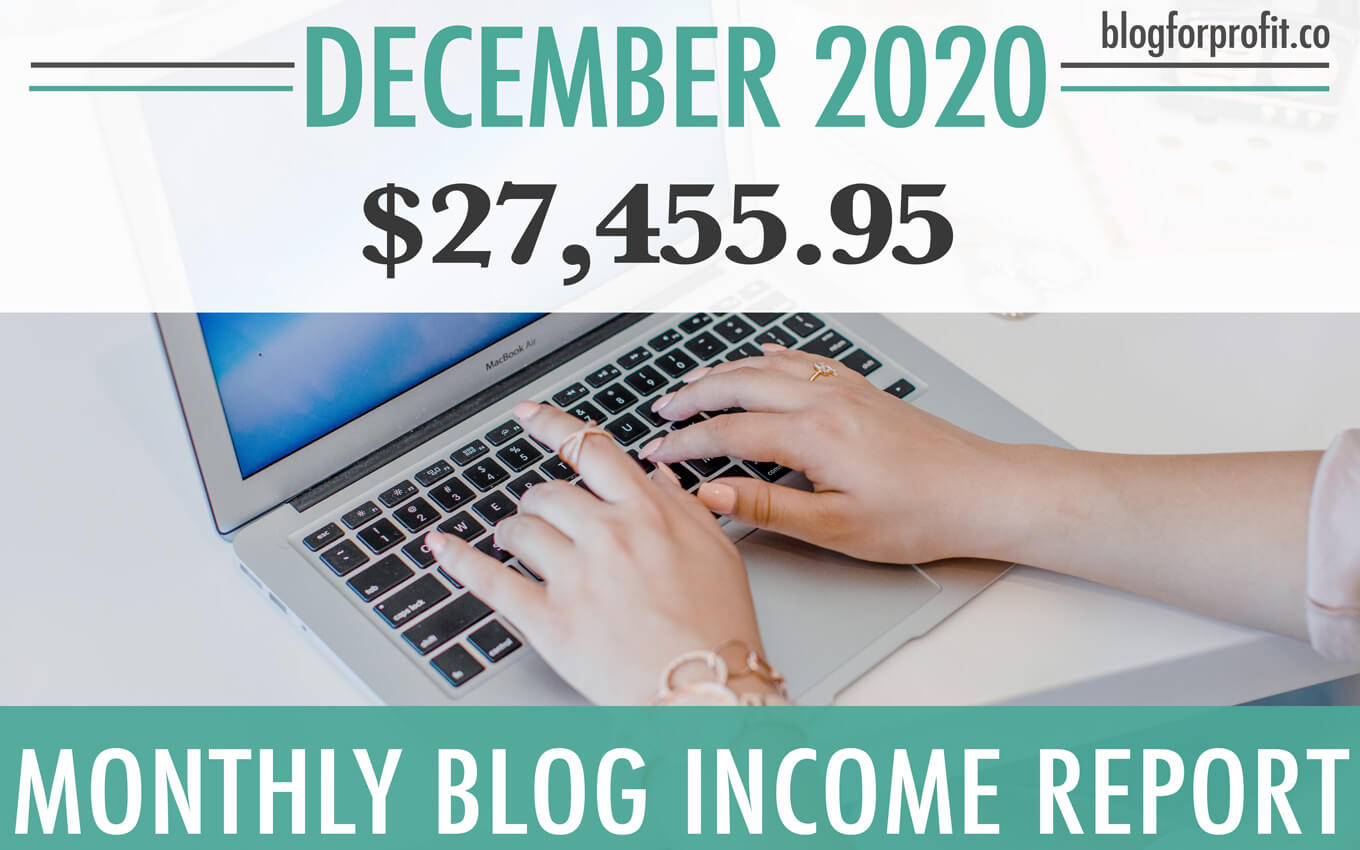 A few years ago I published my first income report on my food blog, Pickled Plum. My goal was to show that it's possible to make money while doing something you love, like cooking.
I wanted to change people's perspective on how they saw blogging – not as a cute hobby where you make a few dollars here and there, but as a full time job that can pay really well.
I shared income reports with my readers for 8 months and really enjoy the process of writing about the blogging industry. I think a lot of people were surprised to see how much a food blogger could make! But I eventually decided to stop publishing these reports since I felt they didn't fit with the theme of my blog, which is food.
Over the next few years I continued publishing recipes regularly and watched my income steadily increase. Then a few months ago something interesting happened – a couple of my posts about blogging got a lot of exposure and I started receiving requests from bloggers wanting me to share more blogging tips, even asking for private consultations!
That's when the desire to help others fully kicked in and I made the decision to start another blog, which is the one you are reading now, where I share everything I know about blogging. With 9 years of experience as a professional blogger under my belt, I thought the timing was right. I have put in my 10,000 hours of work and understand how the industry works. I also know how to make money, as you can see!
In these monthly income reports you will find the total revenue of both of my blogs – Blog for Profit and Pickled Plum. I will also share my revenue streams and tidbits about things that I've learned during the past month.
New to Blogging? Start Here!
Maybe you've been thinking about starting a blog for quite some time but never found the right moment to pull the trigger. Or maybe it's all the tecchie stuff that you find scary and confusing? No need to fear WordPress or how to set up your blog – follow this step-by-step tutorial on how to start a blog!
Click here to learn how you can start a blog today for just $2.95/month (this price is only available through this link and includes a free domain name and WordPress installation).
Blog Earnings for December 2020
TOTAL: $27,455.95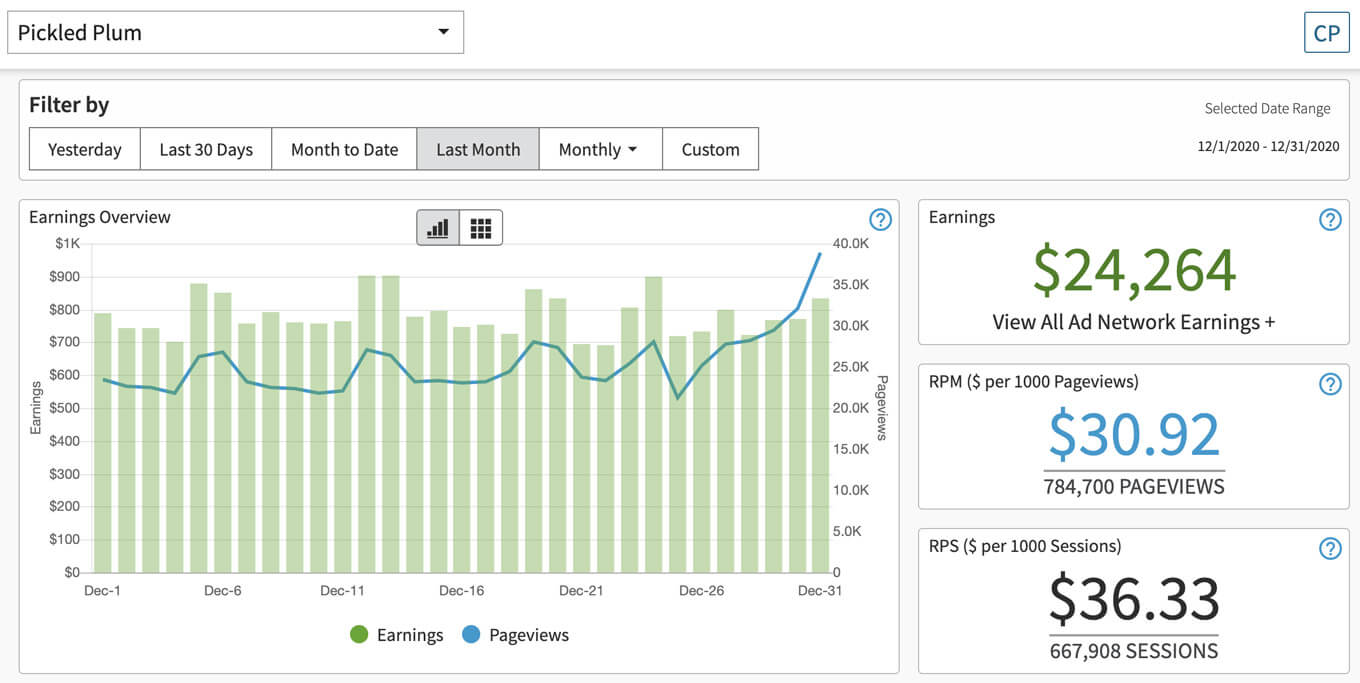 The chart you see above is the income I make with Adthrive, which is an ad monetization platform. In case you were wondering, a blog needs a minimum of 100,000 monthly pageviews to join Adthrive.
This shows how much money I made in December ($24,264) from ads that were placed throughout the Pickled Plum blog. I currently don't have any earnings for Blog for Profit since the blog is still in its infancy. But I'm hoping it won't take too long before I can share some numbers with you!

I have also made and additional $3,191.95 from affiliates I promote on Pickled Plum and products I have created on my Shopify store. I can only showing you a couple of screenshots because the others show my personal information. Some of the affiliate programs I use are: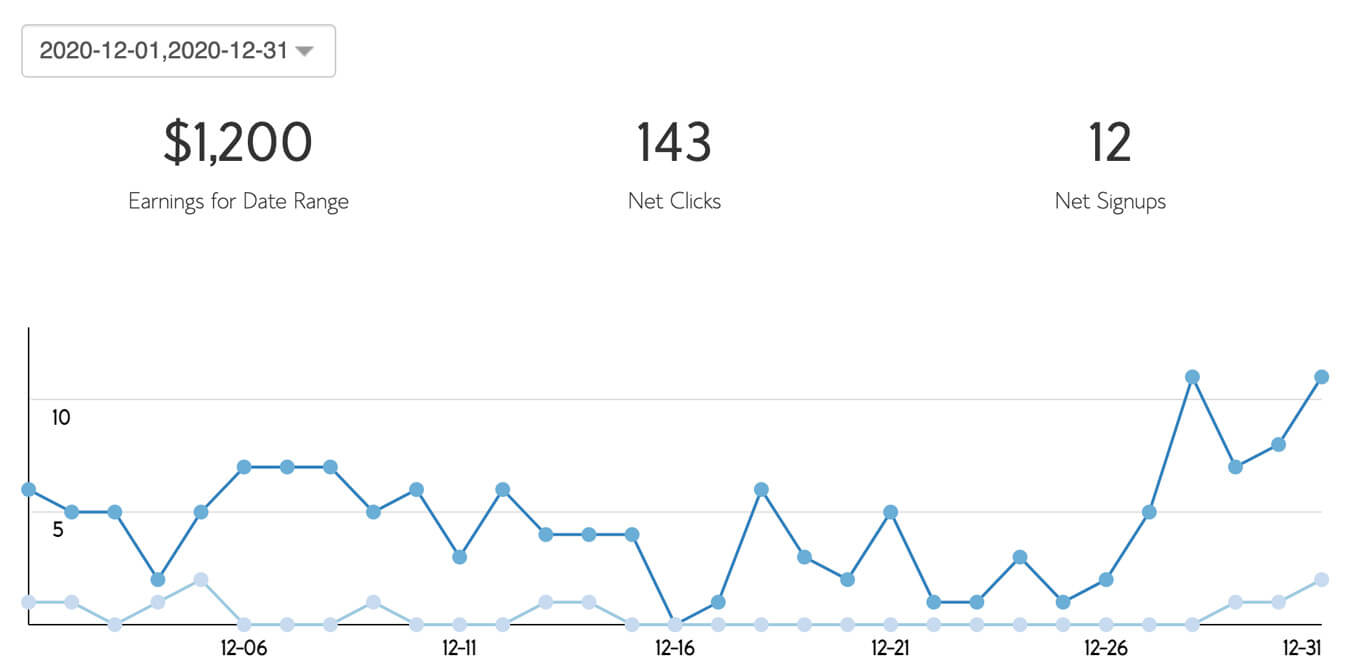 Expenses
Here are some of the expenses I have to factor in on a monthly basis. Liquidweb and Convertkit are more expensive because of the amount of bandwidth I need and subscribers I have. Their basic prices are totally affordable for beginners, should you be interested to check them out).
Things I Wish I Had Done Better Or Differently This Year
Now that the year is drawing to a close, I'm taking a moment to look back at the things I could have done better or differently for both of my blogs. Every December I make a list of the things I would like to accomplish for the new year. I also set a new financial goal to attain and write about how I plan to get there. It rarely works the way I had planned (life is unpredictable after all) but it helps me stay motivated and driven.
So without further ado, here are the things I with I had done better or differently in 2020:
Spent more time creating products for my online shop.
This is a tough one to deal with because since opened my shop 3 years ago I have been telling myself to do better at it, but manage to fail consistently. Blogging is a very hard job to do because there are so many different hats to wear, and the list of things to do never ends. Taking a day off here and there to work on my shop hasn't proven to be successful, so it's time to try something new.
I will have to dedicate a big chunk of uninterrupted time toward my shop if I want it to succeed.
So my plan is to back up both blogs with as much content as possible so I can take 2-3 months off to fully focus on my shop. I've already started to back up Pickled Plum and have been spending more time on Blog for Profit. My hope is to be ready to take time off from blogging by February or March. It's something I look forward to do and am very excited about!
Written more content for Blog For Profit.
When I started Blog for Profit in June, I had this idea that I would publish one new piece of content weekly. I didn't realize how much time starting a new blog would take and how much energy writing a post about a new subject would take. I was used to the Pickled Plum format of creating a recipe, writing about the origin of the dish, the ingredients, and the cooking steps.
Writing about blogging is completely different than that. It's much more technical and I have to make sure that the information I provide is helpful and useful enough for you to build a business around it. It takes a different type of focus and I'm slowly learning to think and write that way.
I wish I had given myself a little more time and patience to grow Blog for Profit, instead of letting my insecurities take over. For the first 2-3 months I basically avoided writing for this blog because it felt overwhelming. I'm glad I caught myself doing that and pulled my head out of the sand because I now enjoy the process. It's still daunting at times, but focusing on my passion to help others makes it easier and less scary to write content.
Updated old recipes on Pickled Plum.
Updating old content can be boring. What I love about cooking and blogging about food is the creative aspect of it, so when I have to sit at the computer and pull out an old recipe that needs updating, it's a bit of a bummer.
But work like that is very important in order to keep my blog up to date so I can compete with other newer, better content. It started off well – the first 3-4 months were pretty good and consistent. And then I got distracted and told myself I would focus on updating old recipes later. And guess what? Later never happened.
Well, it's going to happen in 2021. My plan is to back up Pickled Plum with about 3 months worth of recipes so I can take time off to focus on my shop, and be able to update one old recipe per week. Updating doesn't take a long time, it's just a very boring chore to do. But I'm making it a priority this year, no excuses.
Drank Less Wine
This one may not look like it's directly connected to blogging but it actually has a big impact on how I blog.
A lot happened in 2020 – Ben and I moved cities and had to adjust to our new surroundings. Then the pandemic hit and everything shut down. With no friends and little to do, it became easy to blame the outside world for indulging in a few extra glasses of wine. And that would have be fine had those extra glasses of wine not affected my work performance, but I know they did. I'm not interested in fooling myself by coming up with excuses for my drinking as I get absolutely no benefit from it.
The truth is I drank too often and it muddled my brain at times. I didn't realize how badly 1-2 nightly glasses of wine affected me – I would wake up feeling a little tired and that tiredness would carry on throughout the day. I got stressed more easily and wished I could take more time off so I could laze around (and probably drink more wine).
But the good news is that I did put a stop to it, 3 months ago, and my performance level has shot through the roof ever since!
That all changed after about a month of going alcohol free. I started to sleep better and because of that my energy level increased and remained steady throughout the day. I get a lot more done with work and that makes me feel really good about myself. And the longer I abstain from it, the stronger and more focused I feel.
I'm thinking of going alcohol free for an entire year to see how far I can take both of these blogs. I'll cheer to that with actual grape juice!
So there you have it, all the things I am planning to improve upon this coming new year. I wish you all a healthy, happy, and prosperous new year!