In these blog income reports I share how I make money blogging and include tips on how to improve your blogging skills.
A few years ago I published my first income report on my food blog, Pickled Plum. My goal was to show that it's possible to make money while doing something you love, like cooking.
I wanted to change people's perspective on how they saw blogging – not as a cute hobby where you make a few dollars here and there, but as a full time job that can pay really well.
I shared income reports with my readers for 8 months and really enjoy the process of writing about the blogging industry. I think a lot of people were surprised to see how much a food blogger could make! But I eventually decided to stop publishing these reports since I felt they didn't fit with the theme of my blog, which is food.
Over the next few years I continued publishing recipes regularly and watched my income steadily increase. Then a few months ago something interesting happened – a couple of my posts about blogging got a lot of exposure and I started receiving requests from bloggers wanting me to share more blogging tips, even asking for private consultations!
That's when the desire to help others fully kicked in and I made the decision to start another blog, which is the one you are reading now, where I share everything I know about blogging. With 9 years of experience as a professional blogger under my belt, I thought the timing was right. I have put in my 10,000 hours of work and understand how the industry works. I also know how to make money, as you can see!
In these monthly income reports you will find the total revenue of both of my blogs – Blog for Profit and Pickled Plum. I will also share my revenue streams and tidbits about things that I've learned during the past month.
New to Blogging? Start Here!
Maybe you've been thinking about starting a blog for quite some time but never found the right moment to pull the trigger. Or maybe it's all the tecchie stuff that you find scary and confusing? No need to fear WordPress or how to set up your blog – follow this step-by-step tutorial on how to start a blog!
Click here to learn how you can start a blog today for just $2.95/month (this price is only available through this link and includes a free domain name and WordPress installation).
Blog Earnings for January 2021
TOTAL: $18,981.69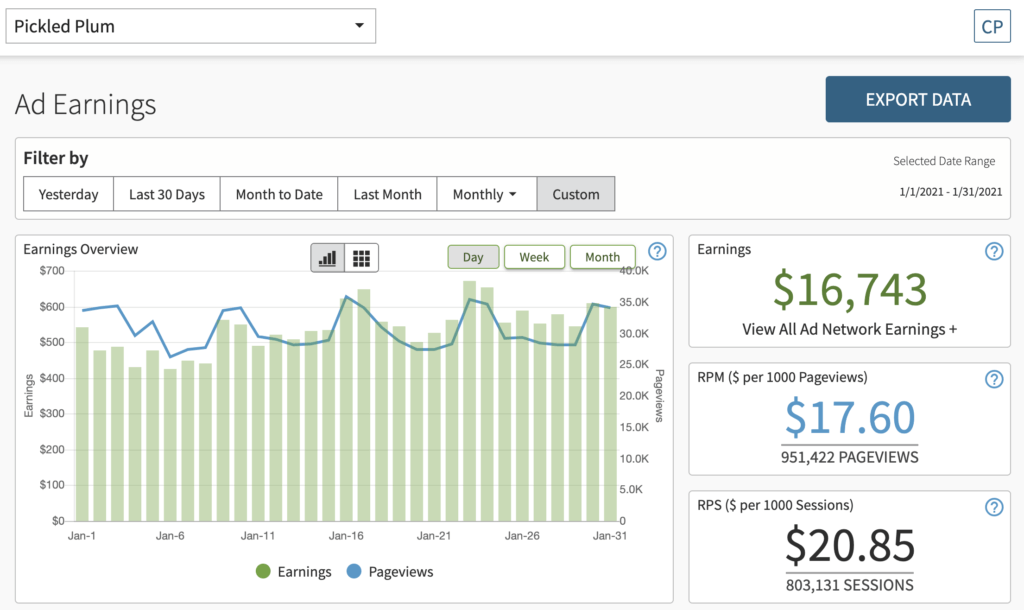 Earnings Per Blog
Pickled Plum: $18,881.69
Blog for Profit: $100
The chart you see above is the income I make with Adthrive, which is an ad monetization platform. In case you were wondering, a blog needs a minimum of 100,000 monthly pageviews to join Adthrive.
This shows how much money I made in January ($16,743) from ads that were placed throughout the Pickled Plum blog. I currently don't have any ads on this blog and may decide to keep it that way as an experiment to see how much money I can make only from affiliate sales.
I have also made and additional $2,238.69 from affiliates I promote on Pickled Plum and products I have created on my Shopify store. I can only showing you a couple of screenshots because the others show my personal information. Some of the affiliate programs I use are: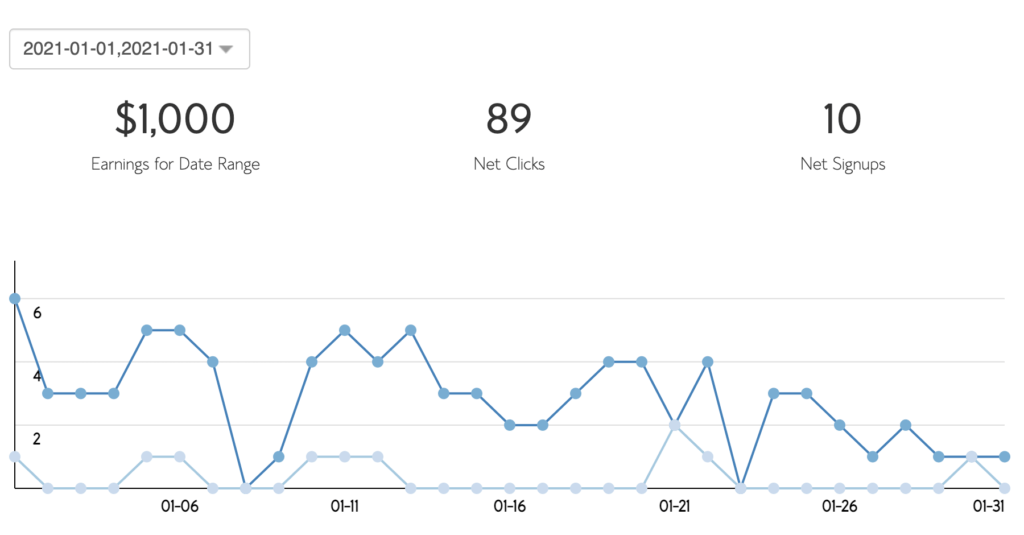 Expenses
Here are some of the expenses I have to factor in on a monthly basis. Liquidweb and Convertkit are more expensive because of the amount of bandwidth I need and subscribers I have. Their basic prices are totally affordable for beginners, should you be interested to check them out).
As you may have noticed, Blog For Profit made a few dollars this month for the first time since its launch back in June. Yay!
Now it goes without saying that I could have earned money sooner, if I had put in more effort toward content creation and been better at linking to affiliates. But as you know, my bread and butter is my food blog so I spend the majority of my time there, creating, shooting, and writing recipe posts.
Blog for profit is a side project I created to share with beginner and intermediate bloggers the industry knowledge I have acquired over the past decade, as a professional full-time blogger.
The Famous January RPM Slump
If you are new to blogging, it's important to know that this industry fluctuates a lot from month to month. It fluctuates in the amount of traffic you get and in how much money you make.
For most bloggers who make most of their income from advertisements (this includes me), January is the worst month of the year. That's because most of the advertising companies have burned through their big December budget and are resetting for the new year.
Their budgets are low because they know that people don't shop much in January. What happens is the RPM (rate per thousand – how much a blog makes per thousand views) drops dramatically, resulting in lower earnings.
Yes it sucks but if you know it's coming, it's not that bad because you are prepared for it. This is why I'm sharing this information with you – so you don't freak out when it happens to you. The RPM does go back up a little in February and can be quite good from March until June.
Then both traffic and revenue tend to go down in July and August because it's summer and people are vacationing. That's usually when many bloggers take a good chunk of time off, make changes or updates to their blogs, or do a website audit. Summer is a great time to recharge your batteries so you are ready for the fall and winter, which are the busiest times for bloggers.
By the time September rolls in, RPMs are on a constant rise and bloggers work harder than ever at churning out new content and repurposing old posts. Food bloggers follow a content calendar so their recipes can stay relevant to what holiday is coming up (Halloween, Thanksgiving, Christmas). This is where bloggers make big money and tend to live in front of their computer screens 24/7.
So now that you know what to expect in terms of advertising revenue, think of other ways you can earn money with your blog, to soften the blow of sudden RPM changes.
Can you come up with new and creative ways to promote affiliates? How about selling your own product or course? Is there a skill you possess that people would be willing to spend money to learn? How about being a consultant or offering a service?
Get those thinking wheels turning.
This way you won't be relying on just one stream of income.